photo from new mexico magazine Photographs by Jay Hemphill.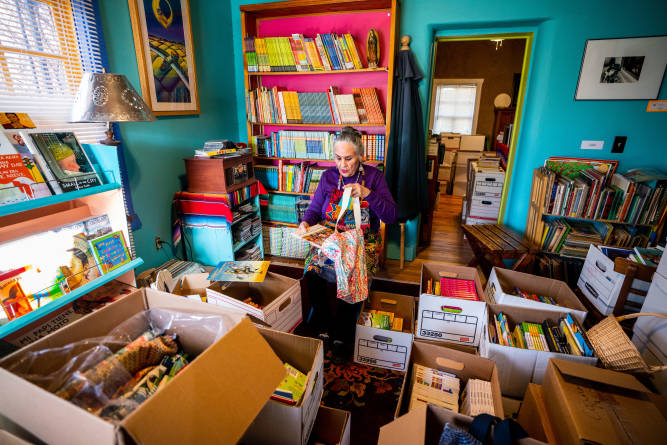 https://remezcla.com/culture/new-mexico-bookstore-starts-book-drive-immigrants-border/
https://www.usnews.com/news/best-states/new-mexico/articles/2020-01-04/latina-author-organizes-book-drive-for-migrant-families
Dear Reader,
I met Denise in Pueblo, Colorado many years ago at a Latino Writer's Workshop. She was the headliner for an audience of Latino writers and the community of Pueblo. I admit, I had not remembered her name nor that I had read a story she had written in an anthology in my Ethnic Literature course. She introduced herself to me at my table at the workshop.
I had set up my books to sell and had decorated my space with fresh flowers and vegetables from my garden. She explained to me that my table would draw more attention to book buyers if I used a colorful tablecloth instead of the white cloth and if I used varying heights with boxes to elevate my visual of decorations. She showed me how to utilize my space and made it more colorful and festive. She worked the room meeting and greeting everyone with grace. I will never forget the kindness she showed me and her generosity. I knew I had just met someone I would love and admire all of my life.
I was mesmerized by her mastery of the stage. Most writers read from the books they've written to the audience. Denise recited from memory excerpts from her novel like a Shakespearean actor. I didn't know at the time her list of accomplishments included acting, directing, and writing plays.
A Chicana icon helping me, a Chicana poet, with my table to sell my books. She graciously allowed me to take a photograph with her. A photo I treasure. As we parted that day, she extended an invitation to visit her bookstore, Casa Camino Real, in Las Cruces, New Mexico. I went home and felt rejuvenated and began to plan a trip to visit her.
I attended a writing workshop she offered the next summer and asked permission to interview her for the writer's blog I write for The Stiletto Gang. She agreed and I arranged a road trip to drive to the border with my dear friend/sister, Dr. Judy Noel. It was an epic road trip that had many adventures and made me realize that I can do anything I set my mind to do. I drove ten-hour days from Southern Colorado to Southern New Mexico.
As I read this memoir, I felt happy/sad. I missed my parents and the memories came flooding my brain with both good and bad times. Her memoir reveals her past, her childhood, her parents, and their beauty and grace as well as their humanity. It's a story I related to.
Denise's family stories took me to my childhood to my memories and made me appreciate my parents and all the love they had given me. The lessons they taught me. Both my parents were excellent cooks and gardeners and have handed down their family recipes to me. I plan on writing my memoirs and including those recipes like Denise did in her memoir,
A Taco Testimony
. Denise gave her mother's taco recipe the title of Tacos a la Delfina.
There are many cultural differences between Southern Colorado and Southern New Mexico recipes. Her mother's tacos are not my mother's tacos. But I gave the recipe a try and understand why she raves over her mother's tacos. They are very delicious.
Other writers have praised this book: Luis Alberto Urea, author of
The Hummingbird's Daughter
wrote, "Muy sabroso? There is much on the menu in this feast of a book…good eating, a warm meditation on family and identity, and a darker tale nimbly suggested between the bright lights and happy music. Denise Ch
á
vez is a national treasure, and this volume will delight her fans and entice new readers. Buen gusto, amigos."
The New York Times Book Review wrote simply, "Spicy storytelling." And Sandra Cisneros author of
The House on Mango Street
said, "Delicious!"
My review of her memoir comes from the heart. After meeting Denise that fateful day and visiting her and interviewing her for an hour in the sweltering heat in July in her adobe bookstore, we met at my motel and she introduced me to her husband, Daniel. I introduced her to Judy my dear friend who rode with me on this adventure. We had a lovely time chatting in the lobby and laughed and shared stories.
Since that day, I have kept in touch with Denise and she has mentored me in my writing and in my life. She works at the border with asylum seekers and also raises money for feral cats in her hometown. She has the strength and energy of someone much younger than her age, but she has something magical in her spirit: love, joy, sympathy, and determination to make the world better. She does this quietly, but if you google her you will find that she has been an activist all of her life. She has worked with the great writers and playwrights, directors, and still takes time out of her busy schedule of attending workshops, speaking engagements, writing, selling books, helping immigrants at the border, feeding and providing healthcare for feral cats, to mentor someone like me, a pocha from Southern Colorado. A pocha is a Chicana who doesn't speak Spanish.
She included photos of her family in her memoir and the resemblance of Denise and her mother, Delfina, blew my mind. I had to read the list of photographs to tell her and her mother apart. They are easily two of the most beautiful women I have ever seen. But the beauty is not superficial it is a radiance from within that shines off the page and into your heart.
Denise tells a captivating story of her family including the heartaches and the joys. The recipes and photos bring an element to her story of family tradition and culture. She writes about the border as well and educates the reader to the plight of the immigrants. "I know borders, real and imagined. I know what it is to have the rabia/anger, the unmitigated rage well up and then subside, wondering how I will enunciate my rights yet another time. Will I be waved away, dismissed or interrogated? 'American citizen,' I hear myself say in a faraway voice. 'I am an American citizen.' There are so many things I hate about borders. I can't begin to articulate the disgust and sadness when I see the ever-changing sign at the immigration roadblock that tallies the yearly count, '1,457 alien removals.' I hate the poverty and the class structure that cause men, women and children to cross the border in desperation."
She works tirelessly to help those less fortunate and gives me hope for human beings. She writes about her mother's social activism, "She was civic minded, caring about the least important person and as a result of this, we were always going out of our way to help strangers. She helped drunks come in from the cold; she picked up hitchhikers at all hours of the day and night; she brought strangers home to stay with us. There were too many old ladies in our lives, and we were always visiting one nun or another…My mother's goodness was bothersome to me, a spoiled, restless girl. And now, in retrospect, I wouldn't trade for anything those days of wandering the streets and cerritos of Ju
á
rez with my over-zealous Mother as we carried seemingly endless bags of clothing up little hills and inside dark houses."
I understand why Denise cares so much for others. Her mother taught her to always take care of the less fortunate and share what you have even if it's only a taco. This memoir spoke to me about love, family, culture, and social activism in a time of a deadly global pandemic when the world could use a little love and kindness for each other. I hope you enjoy her book as much as I did.
I purchased copies for my nieces so they could read about a real Chicana icon, a social activist, a kind and loving woman who shares her stories with us and reminds us to be kind to one another. I hope you order her books and try her recipes and enjoy them both as much as I do. You can reach her at
Casa Camino Real
Las Cruces, NM, U.S.A. 88001
314 S. Tornillo Street
+1 575-523-3988